Home
The Book
The Database
Me
Who Am I?
Written by Freeman Ng
Illustrated by Shawn McCann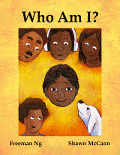 Who Am I? is the story of a child who wakes up one morning not remembering who he or she is. As he (or she) goes through the day asking everyone he encounters, "Who Am I?", their answers reconstruct for him his place within his family and in the world, and at the end of the book, the child remembers his/her name again.
Who Am I? comes in TWENTY different versions! When you order it:
You can choose whether the main character will be a boy or a girl.
You then choose from among five different boys or girls, each with a different appearance.
Finally, you can choose either a generic version of the story or a variation where, when the main character remembers who he/she is, you can write your child's name into the book at that point, so that the main character ends up having the same name as your child.